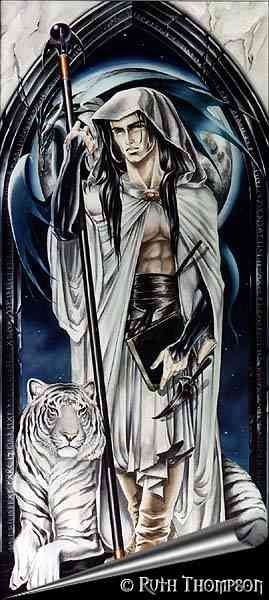 Used with permission by Ruth Thompson, Title "Magi" © 1998 Ruth Thompson. All rights reserved! Read the legal information.
Stats:
Name:Malik Valisade
Nicknames:
Sex:Male
Race:Human
Age:Unknown
Height:6'5"
Weight:
Hair:Midnight Blue
Eye color:Dark with Purple Irises
Appearance:
Occupation:Amnesiac he doesn't know
Birthplace:Unknown
Outward attitude:Warm and Friendly, happy
Inward Nature:
Weapons:
Spells:
Special Notes:His Familiar is Tsiem the White tiger

Copyright Anna Marie Hoyer, All Rights Reserved. All Artwork found within the pages is copyright the original artist. All Poetry within the pages copyright the orignal writer, All character biographys copyright the player of the character and used here with their permission. All titles done by Vermillion Draven and Gem Bluestone. Page layouts created and made by Anna Marie Hoyer. This page is a Non Profit, For entertainment only page. Do NOT take from my page unless you have prior written consent from the artists.