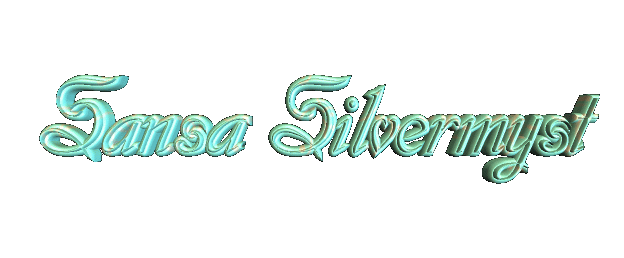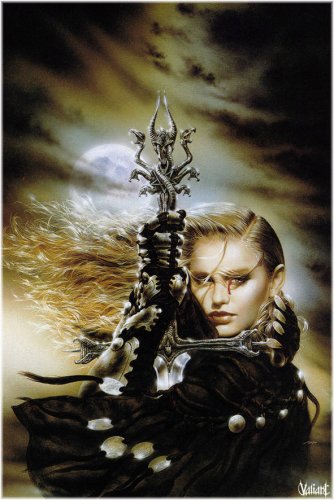 Artist Luis RoyoTitle "Nine Tongues and One Tear"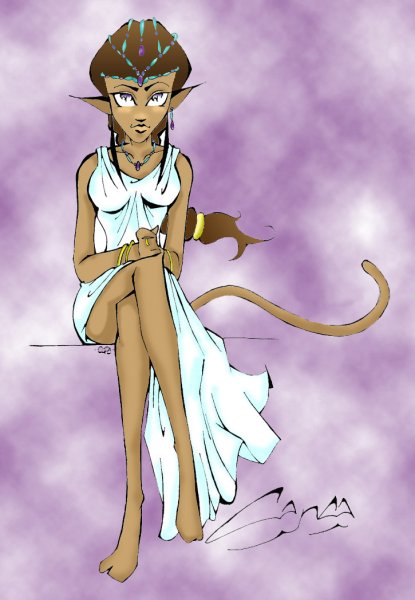 "Used with permission" Feline changling(sokto) form. Picture done by the talented Lady Arshes Nei, new artist to my page.
Stats:
Name:Sansa Silvermyst
Nicknames: Sans
Sex:Female
Race:Bastet
Age:27yrs
Height:5'6
Weight:135lbs
Hair: Blond to white
Eye color:Amber or gold
Appearance:usually appears as either human (homid) or as a feline changling (sokto), wearing greens, reds, blues, or earthtones. Normal dress is a shirt, pants, and mid-calf boots, usually provocative.
Occupation:Rogue, Dancer
Birthplace:Unknown
Outward attitude:Curious, Outgoing, flirtatious, secretive, manipulative
Inward Nature:Curious, Guarded
Weapons:4 steel bladed daggers, one steel bladed hakarr
Spells:level four gifts
Special Notes:She reveals nothing of herself, only that which she wishes you to know. Ask for more and suffer the rath of confusion. Sansa is a mother of three, her son Traedonos Darklighter, and twin daughters, Andrea Marquis Xternal, and Cynthisa Isilva Widow. She is also engaged to be married to Caleb Widow, proudly wearing the ring he gifted her with.

Copyright Anna Marie Hoyer, All Rights Reserved. All Artwork found within the pages is copyright the original artist. All Poetry within the pages copyright the orignal writer, All character biographys copyright the player of the character and used here with their permission. All titles done by Vermillion Draven and Gem Bluestone. Page layouts created and made by Anna Marie Hoyer. This page is a Non Profit, For entertainment only page. Do NOT take from my page unless you have prior written consent from the artists.